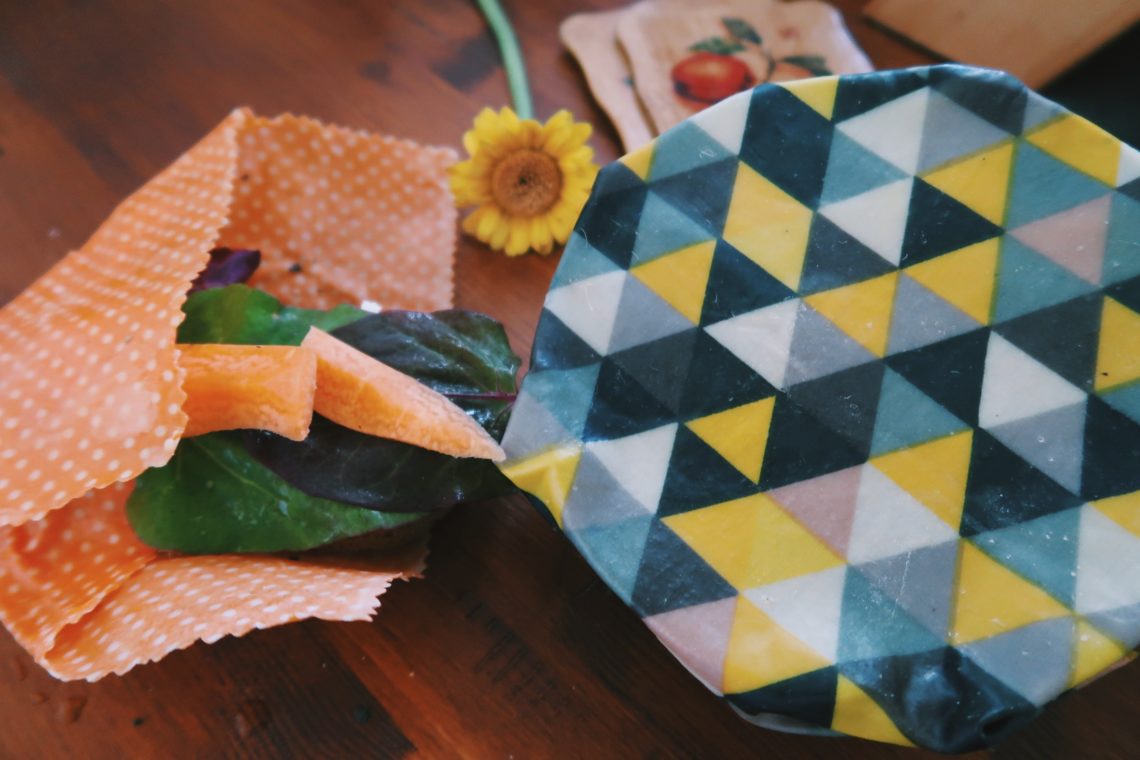 Folie alimentară eco // Beeswax wrap
April 26, 2020
Scroll for English:
Știați că folia subțire de plastic pe care o folosim la acoperirea castroanelor, sandvișurilor, aluaturilor (că tot e perioada de înflorire a pâinilor făcute în casă) nu este reciclabilă? Aceasta este prea subțire și încurcă mașinile care reciclează și, de obicei, este contaminată cu resturi de mâncare, lucru care împiedică procesul de reciclare.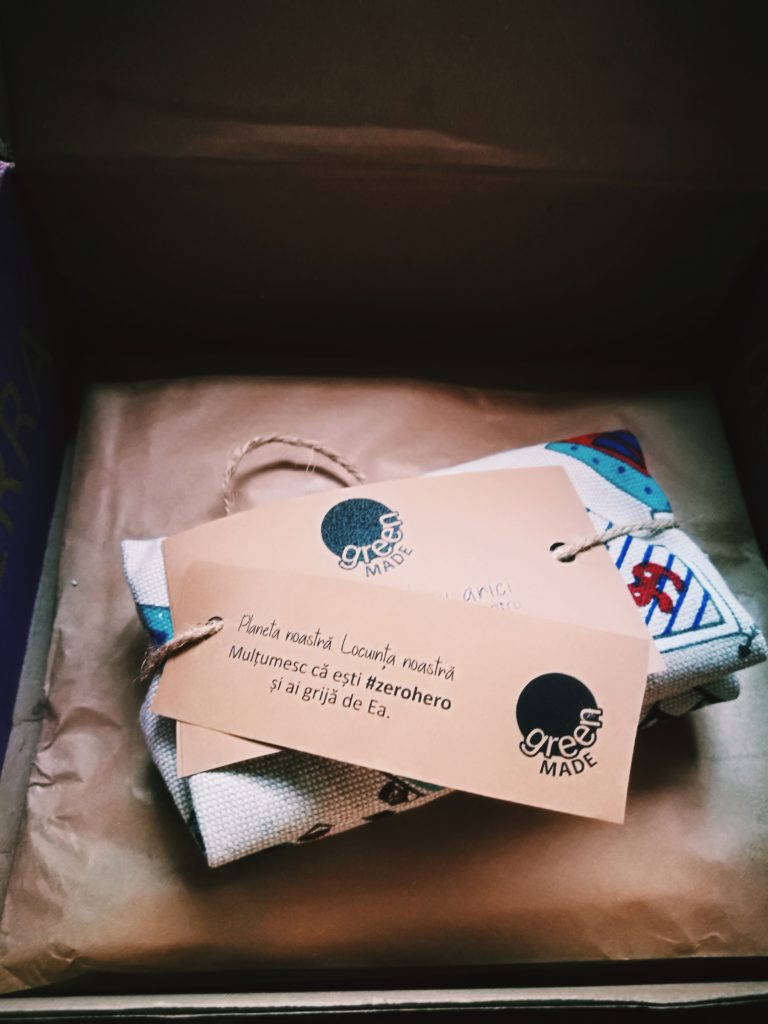 Dar, nu vă temeți; există și varianta zero waste a acestui produs: ambalajul ecologic pentru alimente cu ceară de albine. L-am testat deja de câteva luni și sunt foarte mulțumită de el. Practic este o bucată de bumbac, impregnant cu ceară de albine, ulei de jojoba și ulei de pin. Eu l-am luat de la Greenmade – un mic magazin românesc, zero waste. Am aflat de acest magazin de la unul dintre oamenii frumoși care îmi citesc blogul și mi-am pus imediat pe wishlist câte ceva: 2 folii din acestea cu ceară de albine și un șervețel textil cu multiple funcționalități de la pouch pentru gustări, până la mini față de masă și poate fi folosit și în scopul său inițial, așa cum îi spune numele.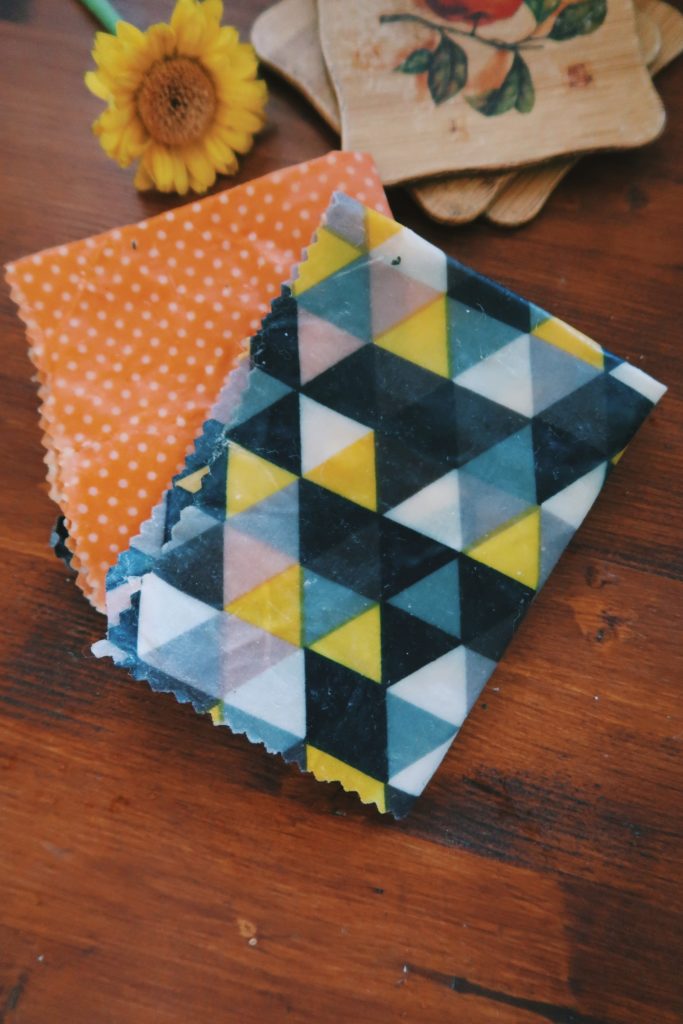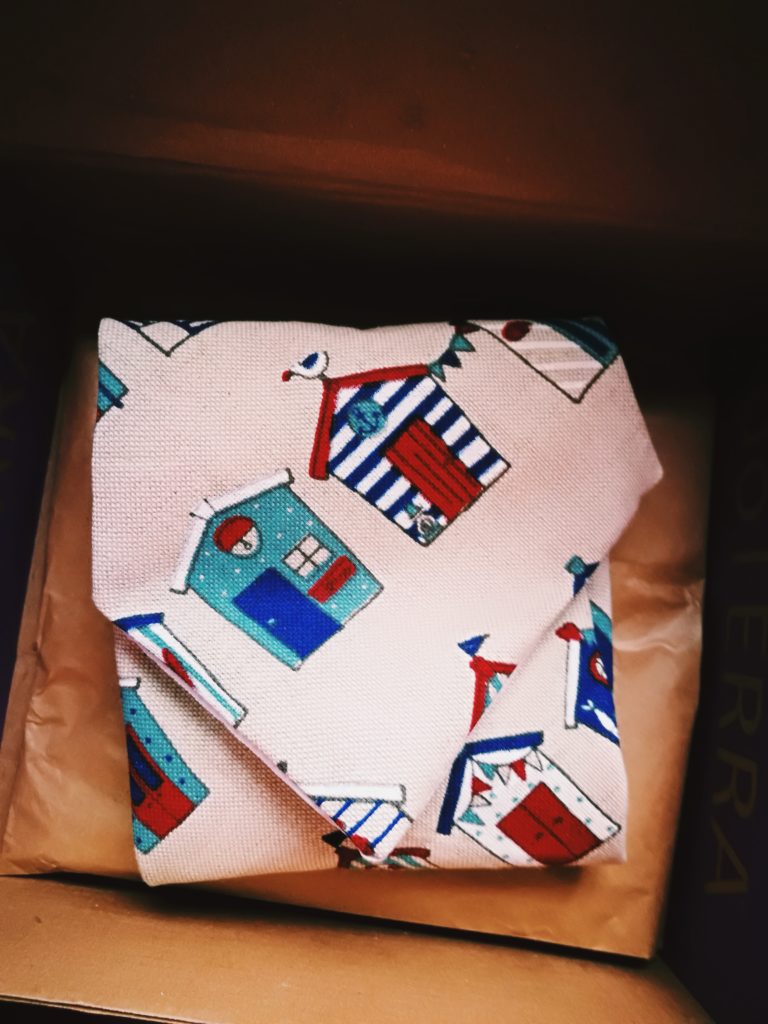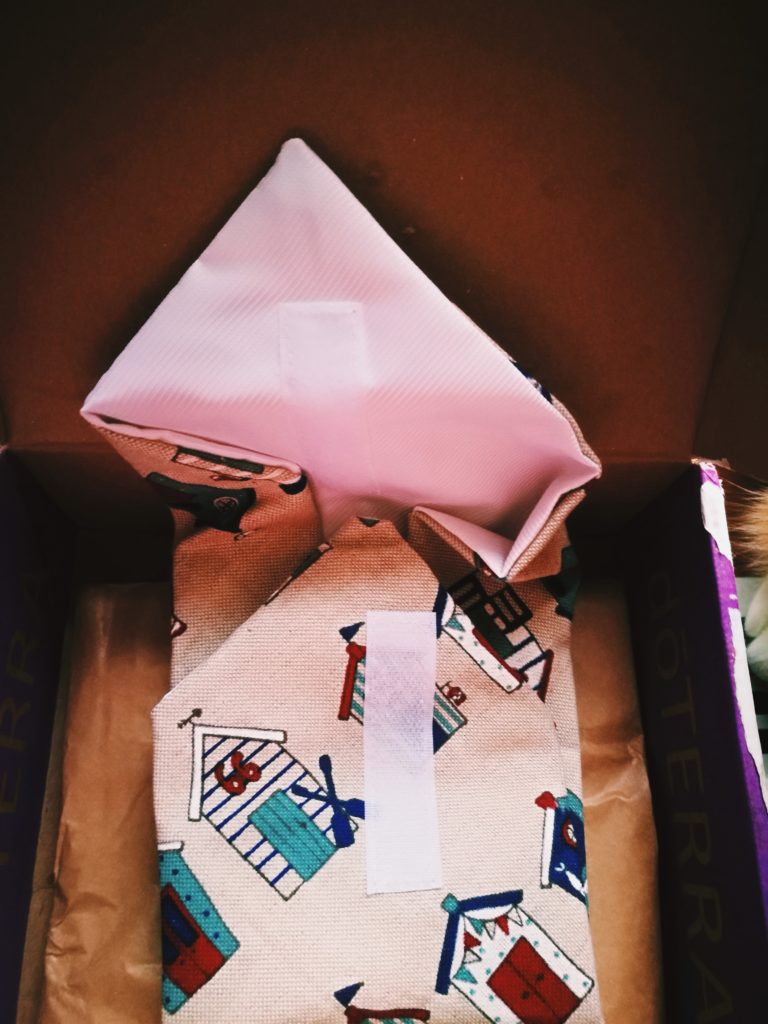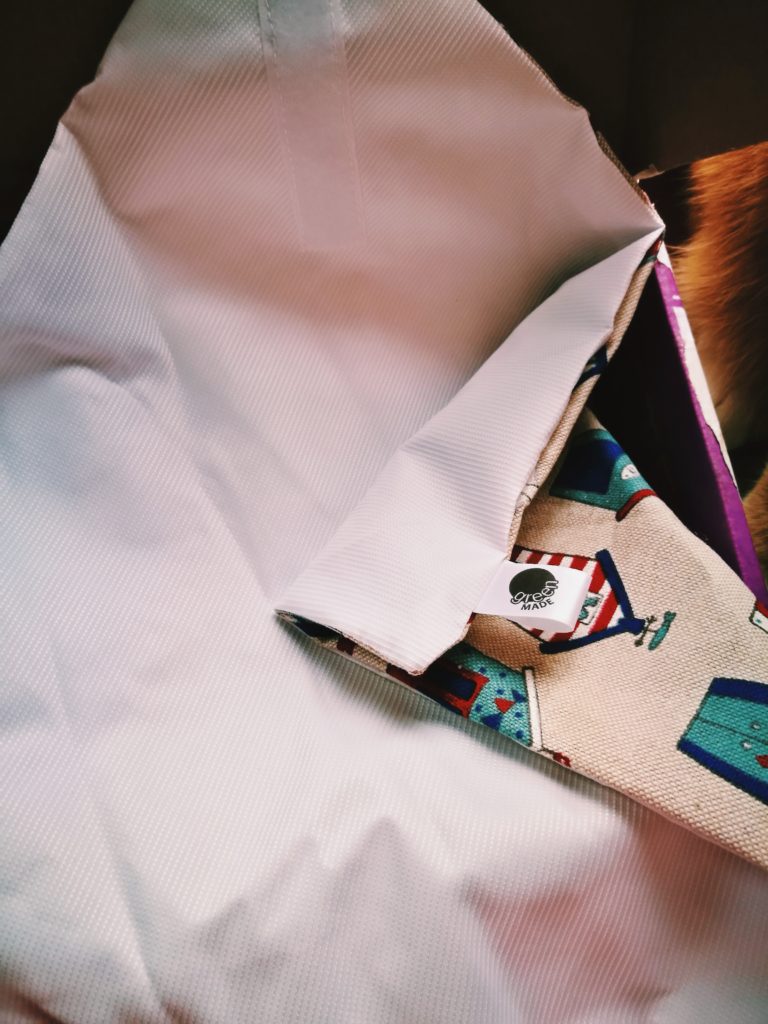 Revenind însă la ambalajul ecologic pentru alimente cu ceară de albine, vreau să spun că mi-a plăcut în primul rând mirosul lui: m-a dus cu gândul imediat la natură, la bunici. Apoi materialele au diverse imprimeuri faine, care de care mai drăguțe. Și acum să trecem la ce e mai important: cum și cât de ușor sunt de folosit. Am doua ambalaje cu ceară de albine și sunt foarte ușor de folosit: pur și simplu se pun peste castron sau peste un sandviș și se sigilează cu ajutorul căldurii mâinilor. Când se murdărește se poate curăța ușor cu lufă sau un șervețel textil umed, fără a freca sau a se șifona. Mai multe informații despre îngrijire găsiți aici.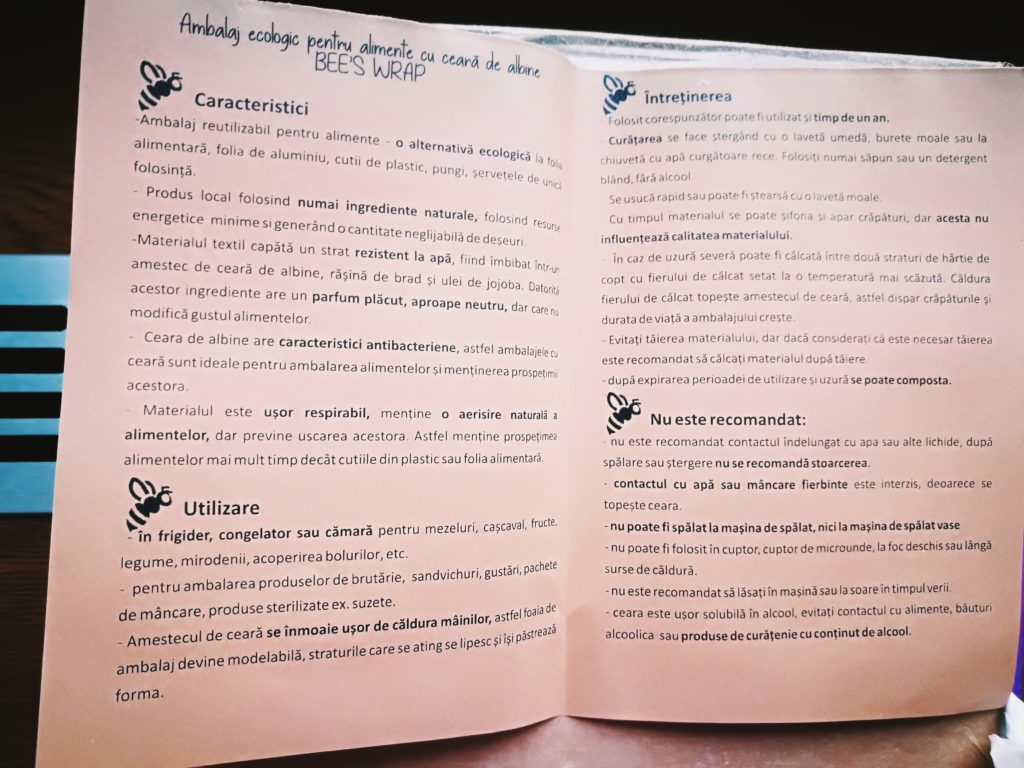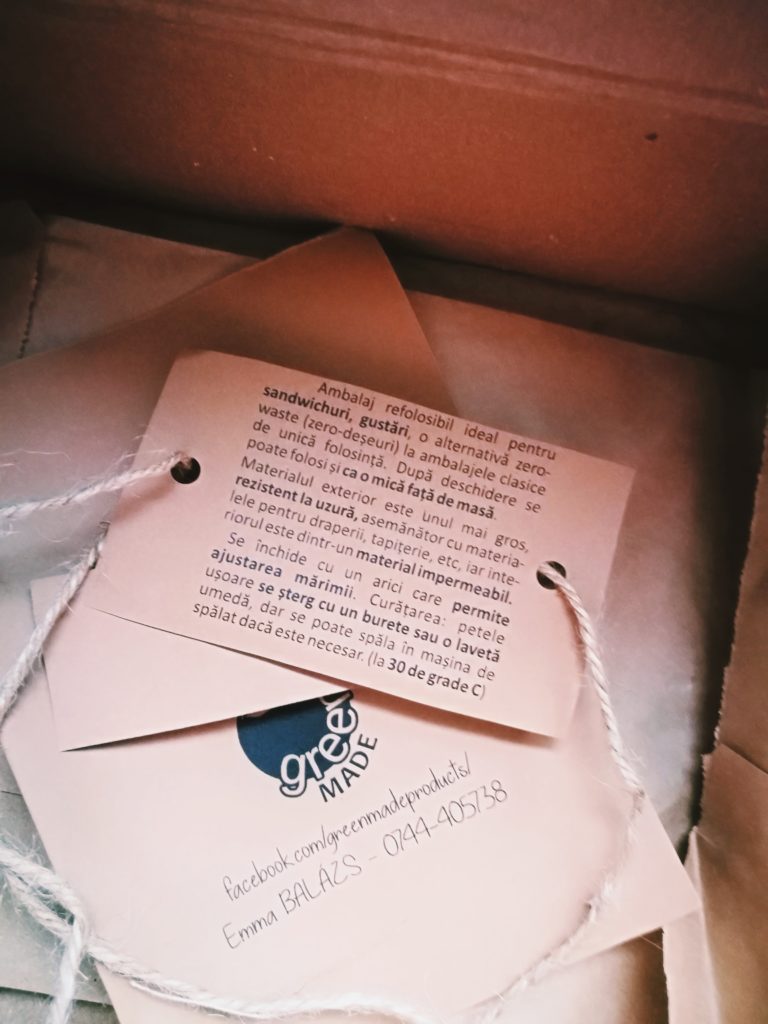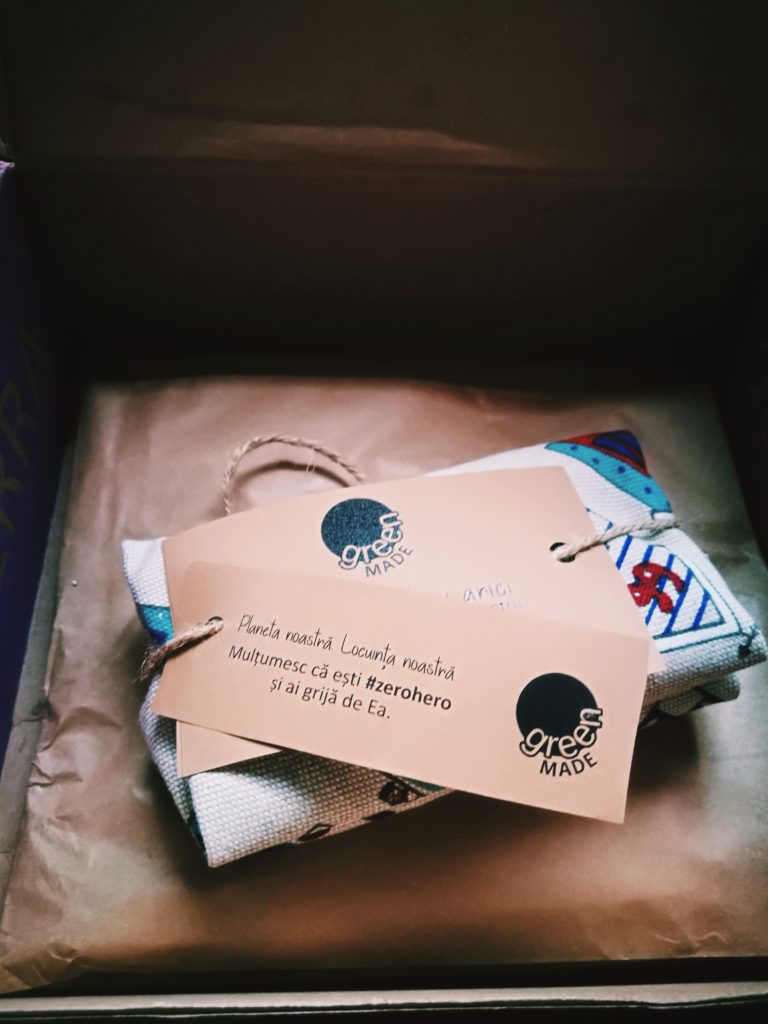 Am pus ambalajele peste castroane fără probleme (atâta timp cât pânza este destul de mare încât să îl acopere), am învelit o jumătate de ceapă într-unul din ele și am pus-o în frigider și a menținut-o proaspătă, dar a și păstrat mirosul la minim, astfel nu am mai leșinat de cate ori deschideam frigiderul ?. Am învelit un sandviș cu acest beeswax wrap, iar pâinea a rămas proaspătă; am putut să îl fac (șervetul acesta din ceară adică) și un fel de buzunăraș în care să pun câteva nuci, pe care l-am sigilat cu căldura palmelor. Am fost tare încântată că sigiliul a ținut bine și nu s-a vărsat niciun gram. Și l-am folosit și ca transportor de tacâmuri, ceea ce mi-a plăcut tare mult pentru că am putut să sigilez ușor cu mâinile ambele capete, iar tacâmurile au rămas la locul lor, fără să îmi pice prin geantă. Concluzia? Da, recomand aceste ambalaje și recomand magazinul Greenmade pentru că are multe lucruri interesante zero waste, proprietara are și ea un stil de viață cât se poate de sustenabil, produsele sunt calitative. În plus susținem un mic business românesc. Așa că aruncați un ochi pe pagina sa de Facebook, pe profilul de pe Breslo și pe pagina sa de Instagram. Și dacă încercați ceva din acest magazin, aș fi încântată să vă aud părerile/ experiențele. ??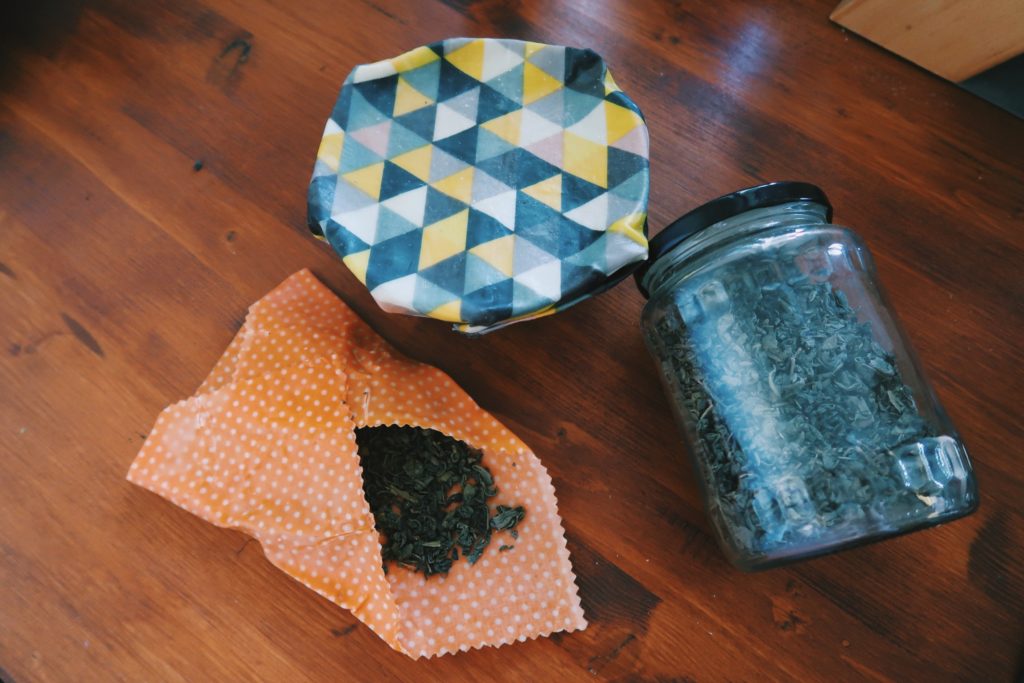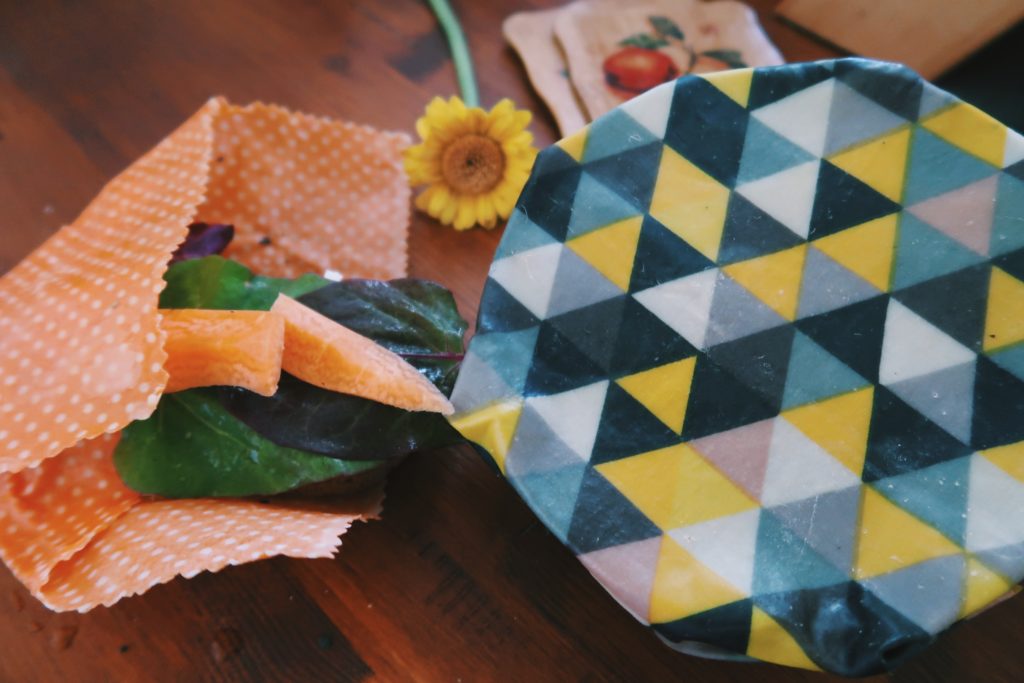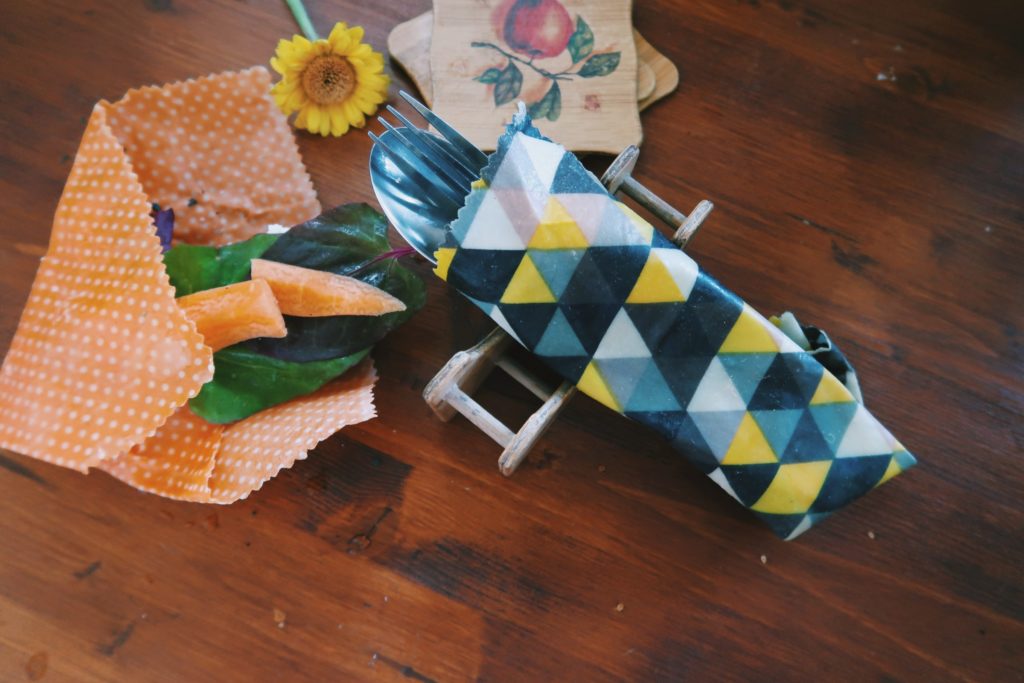 English:
Did you know that the thin plastic foil we use to cover bowls, sandwiches, doughs (it's the season of homemade bread, huh? ☺️) is not recyclable? It is too thin and it messes up with the recycling machines and usually it is contaminated with food debris, which impedes the recycling process.
But don't be afraid; there is also the zero waste version of this product: the ecological packaging beeswax wrap. I've been testing it for a few months now and I'm very happy with it. It is basically a piece of cotton, impregnated with beeswax, jojoba oil and pine oil. I got it from Greenmade – a small, zero waste Romanian store. I found out about this store from one of the beautiful people who reads my blog and I immediately put something from them on my wishlist: 2 beeswax wraps and a multi-functional textile napkin wich can turn into a snack pouch, a mini tablecloth and it can also be used as a… napkin ?.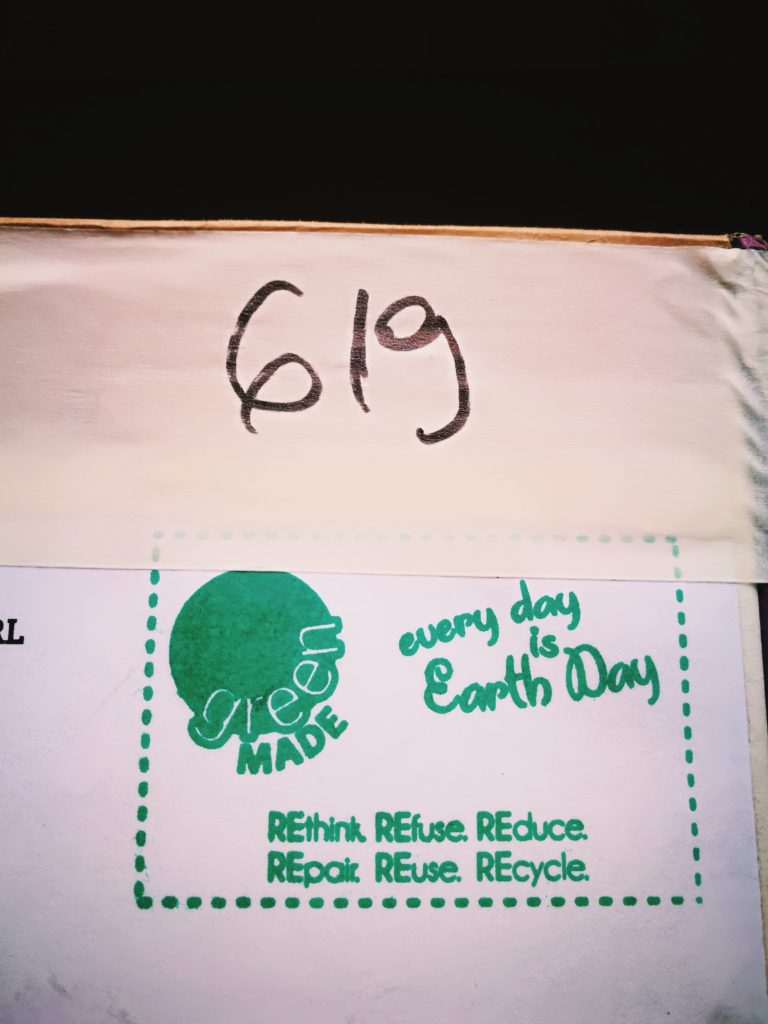 But going back to the beeswax wrap, first I want to say that I liked its smell: it immediately made me think of nature, of my grandparent's garden. Second: the materials have some fine, pretty prints. And now let's move on to what's more important: how did I use them and are they easy to use? I have 2 beeswax wrap and they are very easy to use: I simply placed them over a bowl or a sandwich and sealed them with the warmth of my hands. When dirty, it can be easily cleaned with a loofah or a damp cloth, without rubbing or wrinkling them. More information about care can be found here.
I put the beeswax wrap over the bowls without any problems (providing they are as big as the bowl), wrapped half an onion in one of them and put it in the fridge and kept it fresh, but it also kept the smell to a minimum, so I didn't faint every time I opened the refrigerator ?. I wrapped a sandwich with this beeswax wrap, and the bread stayed fresh; I was able to make the wrap in some kind of a pocket in which I have put a few nuts and I sealed it with the warmth of my palms. I was very happy that the seal held up well and nothing was spilled. And I also used it as a cutlery carrier, which I really liked because I was able to easily seal both ends with my hands, and the cutlery stayed in place without falling into my bag. The conclusion? Yes, I recommend these packages and I recommend the Greenmade store because it has many interesting zero waste things, the owner also has a very sustainable lifestyle, the products are high quality. In addition, we support a small Romanian business. So, take a look at her Facebook page, her Breslo profile and her Instagram page. And if you try something from this store, I would be happy to hear your opinions / experiences. ??
You May Also Like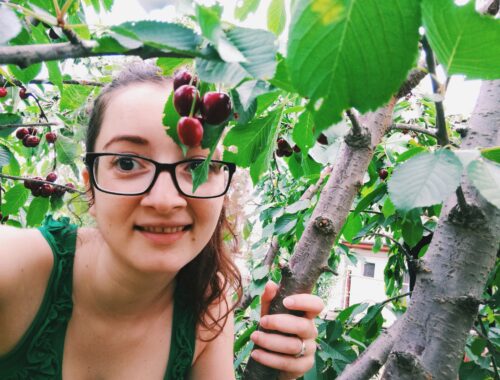 May 22, 2022