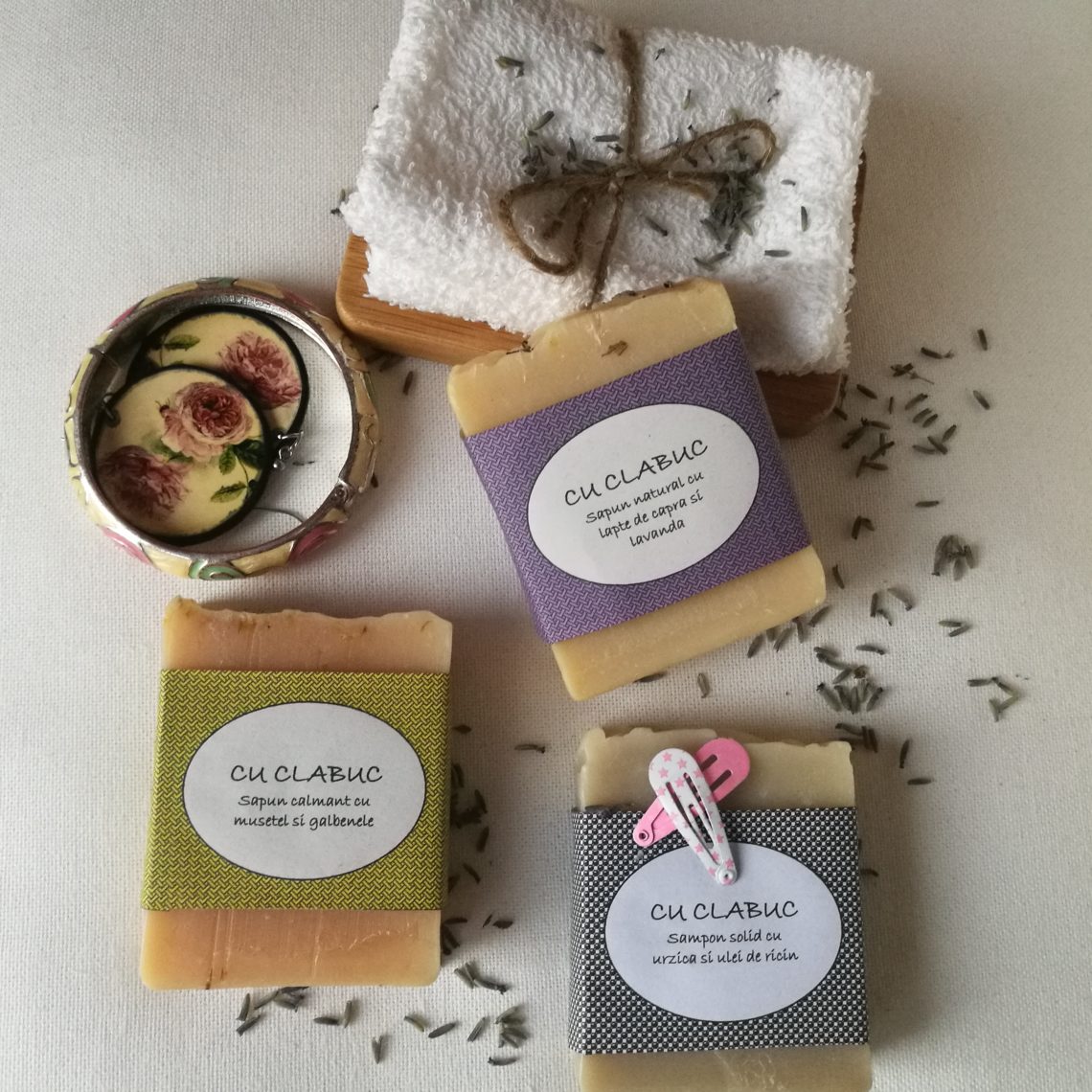 Cu clăbuc și multă hidratare // Winter pampering
December 8, 2019
Scroll for English:
Sezonul acesta parcă am chef să mă răsfăț mai mult și să am grijă mai mult de pielea și tenul meu, căci…baby is cold outside. Iar unul dintre răsfățurile care mă pune pe picioare și îmi dă energie zilele astea este sfântul duș cald, învăluită în arome de lavandă sau sub acțiunea calmantă a mușețelului.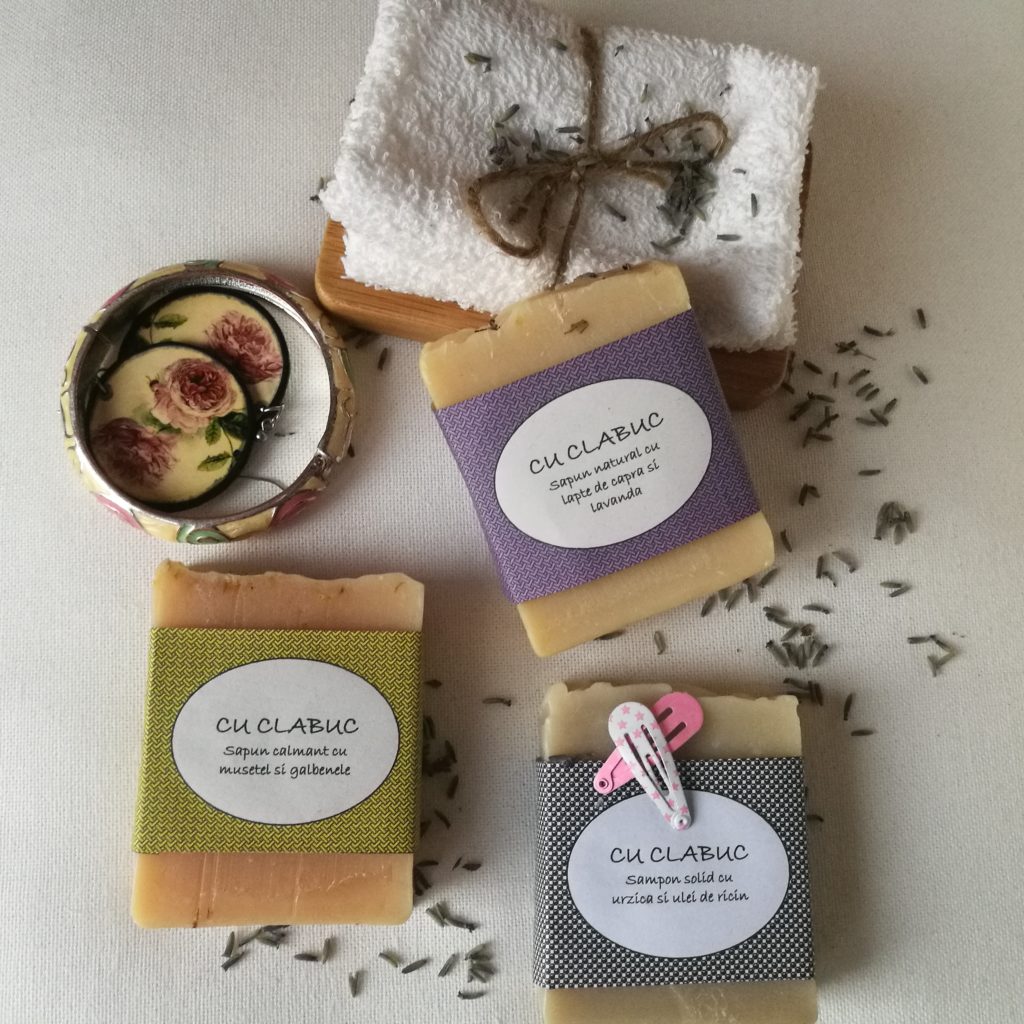 Am mai zis eu pe ici pe colo că am renunțat la gelurile de duș și la șampoanele ambalate în plastic. But fear not, nu mă adulmecă nimeni cu lacrimi în ochi de la distanță, din contră am descoperit produse benefice pentru corp și natură în același timp. Așa cum sunt de exemplu săpunurile naturale de la Cu Clăbuc (click pe nume pentru a ajunge la magazinul online). Iar aici găsiți pagina de Facebook și pagina de Instagram.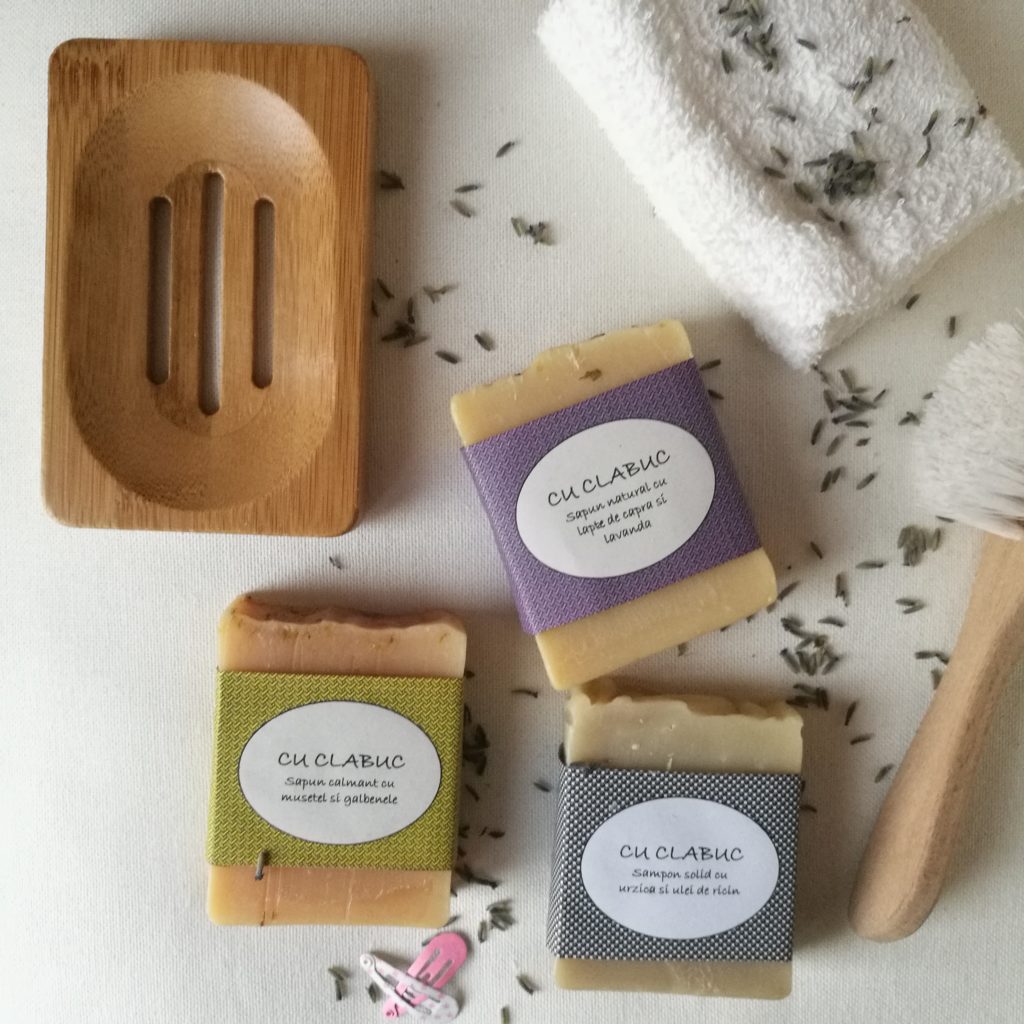 De ce sunt ele benefice mă întrebați? Apăi țineți-vă bine că încep să turui: în primul rând minunățiile de la Cu clăbuc sunt naturale, realizate manual, prin metoda saponificării la rece (metodă care le păstrează proprietățile uleiurilor folosite intacte). Apoi sunt realizate în România (deci ajutăm economia locală), vegane, netestate pe animale, fără ulei de palmier (cererea mare pentru astfel de ulei duce la declanșarea unor adevărate dezastre naturale; voi scrie curând pe blog un articol despre asta) și fără ambalaj de plastic. Ba chiar au un ambalaj foarte frumos si minimalist din hârtie. Și nu în ultimul rând au un design foarte fain: un copăcel ștanțat pe ele. Love it!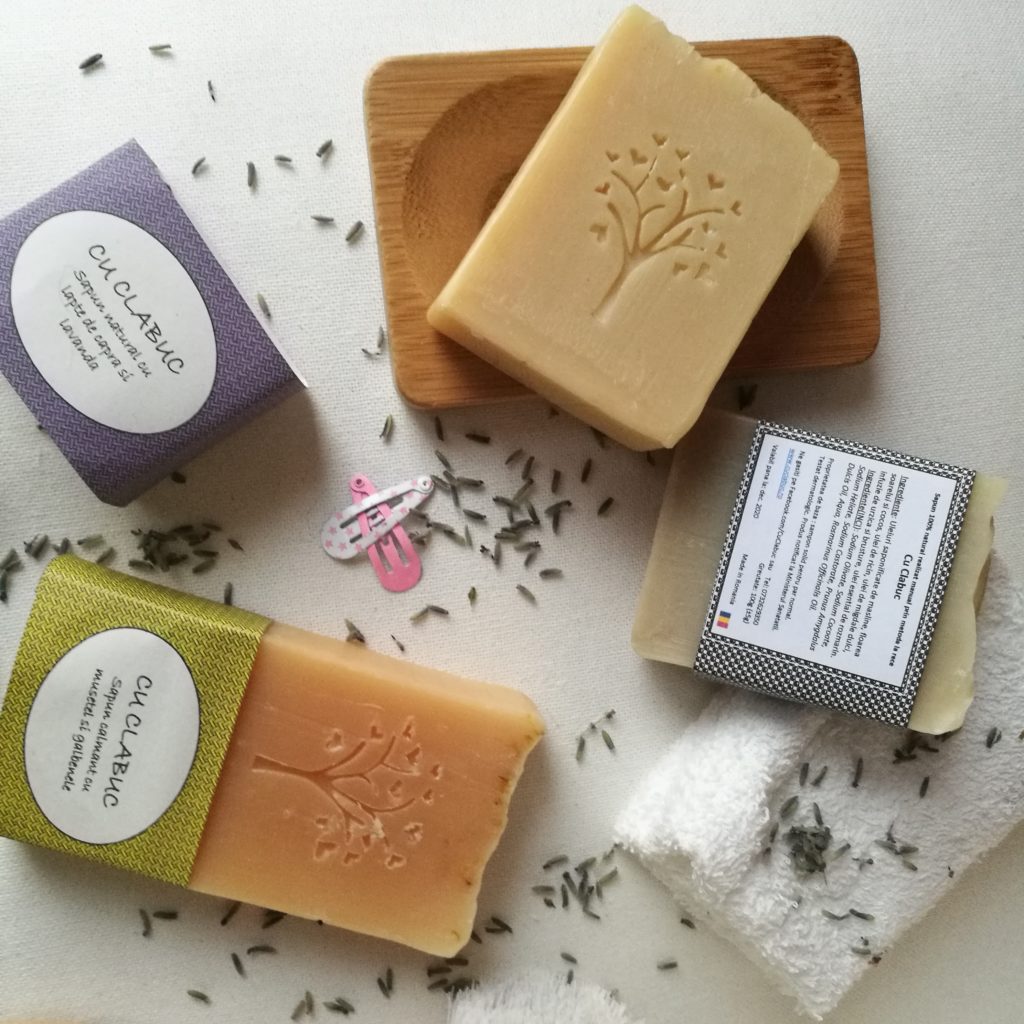 Acum să vă povestesc despre săpunurile de corp și față. Am și șamponul solid cu urzică și ulei de ricin, dar încă nu l-am început, așa că voi reveni cu o postare ulterioară despre el. In primul rând mi-a plăcut parfumul săpunurilor. Este discret, natural, nu îmi dă dureri de cap (nu suport mirosurile intense) și dacă închid ochii mă simt în gradina cu flori. Îmi place că sunt tare hidratante și, în condițiile în care eu am pielea uscată, nu am mai simțit musai nevoia să mă dau cu o cremă pe corp / maini după utilizarea săpunurilor. Iar pe față senzația de piele uscată a fost aproape inexistentă, ceea ce e wow având în vedere tenul meu uscat ca o prună. De obicei după o asemenea spălare trebuie să bag la greu hidratare pe ten, dar cu aceste săpunuri de la Cu clăbuc am scăpat doar cu ceva foarte lejer, de menținere a umezeliii în piele. Și mi-a mai plăcut că mi-au rezistat mai bine de o lună (dar am avut grijă să nu le țin în apă, sau să stea în săpunieră umedă).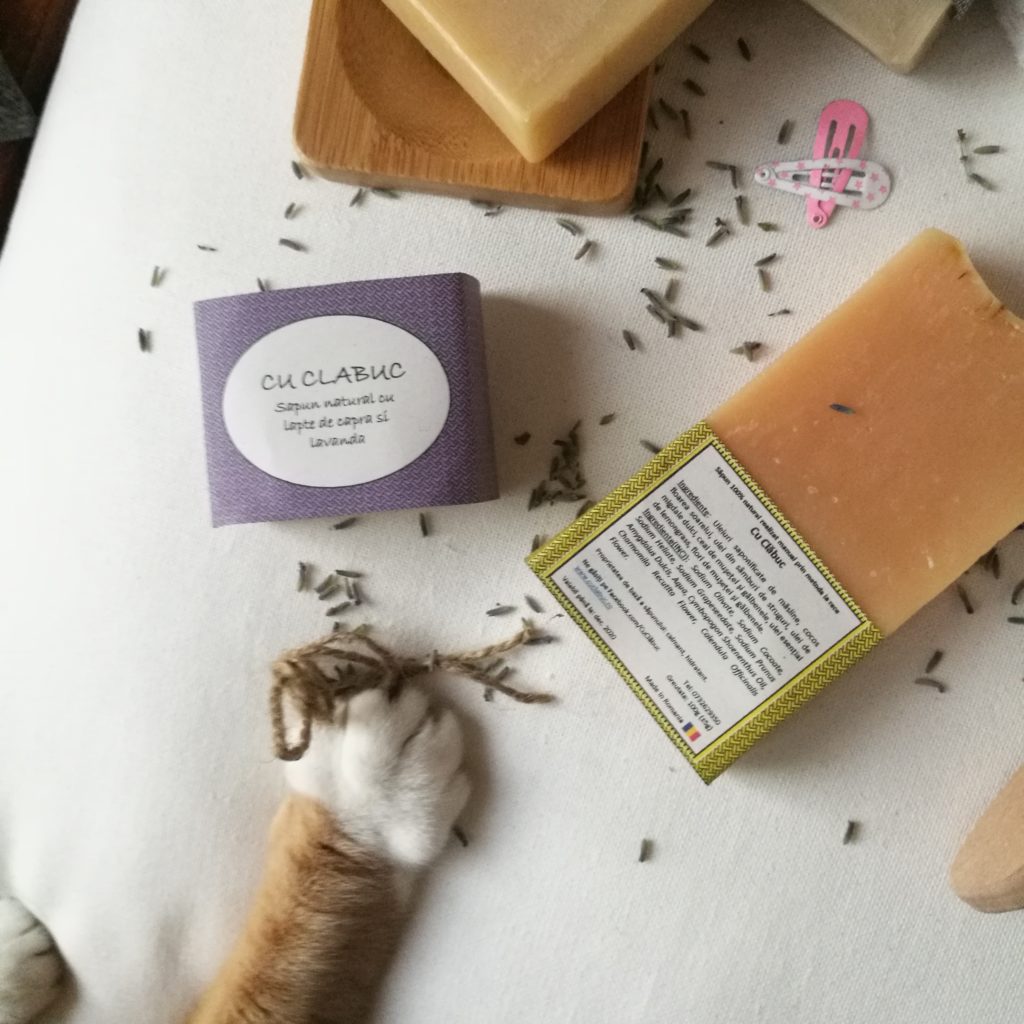 Și dacă sunteți în căutare de cadouri, Dana de la Cu clăbuc a pregătit multe cutiuțe cu minunății taman bune de dăruit. Eu am fost mega încântată când le-am primit pentru că arată minunat, miros genial și acoperă o plajă largă de dorințe: hidratare, energizante, exfoliere, pentru piele sensibilă. You name it! Și ce m-a încântat cel mai mult a fost setul cu săpun, prosopel de față și savonieră de lemn. Îmi doream de mult o savonieră de lemn pentru că menține foarte bine săpunurile spre deosebire de cele din plastic care mențin o umezeală ce nu face decât să le topească mai repede (săpunurile adică ?). Iar prosopelul de față a picat la fix pentru că eram în căutare de unul cu care să mă demachiez, mi se pare mult mai practic decât cu dischetele demachiante. Plus că dimensiunea celui primit e perfectă: nici prea mare, nici prea mic și când se murdărește îl arunc fără remușcări în mașina de spălat, se usucă repede și apoi îl pot refolosi. And so on for mulți ani. Puteți găsi setul aici.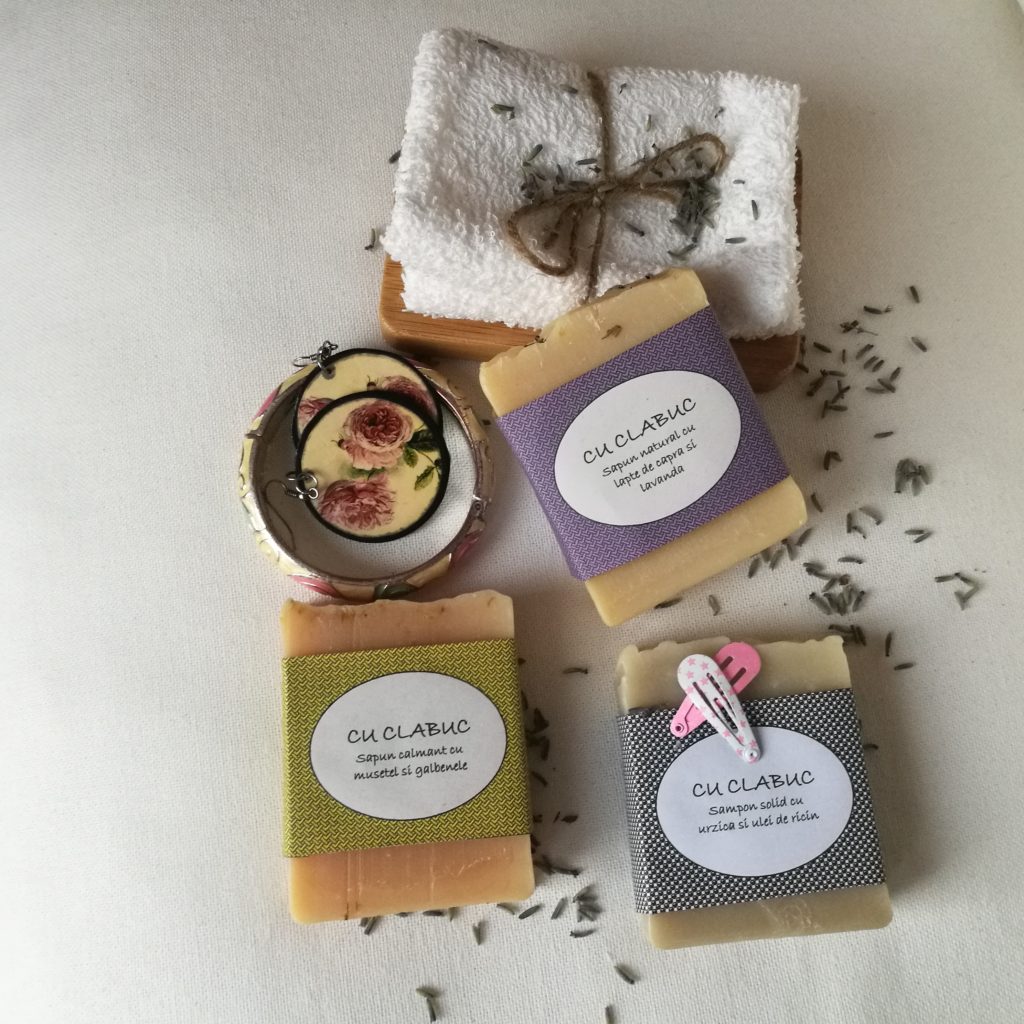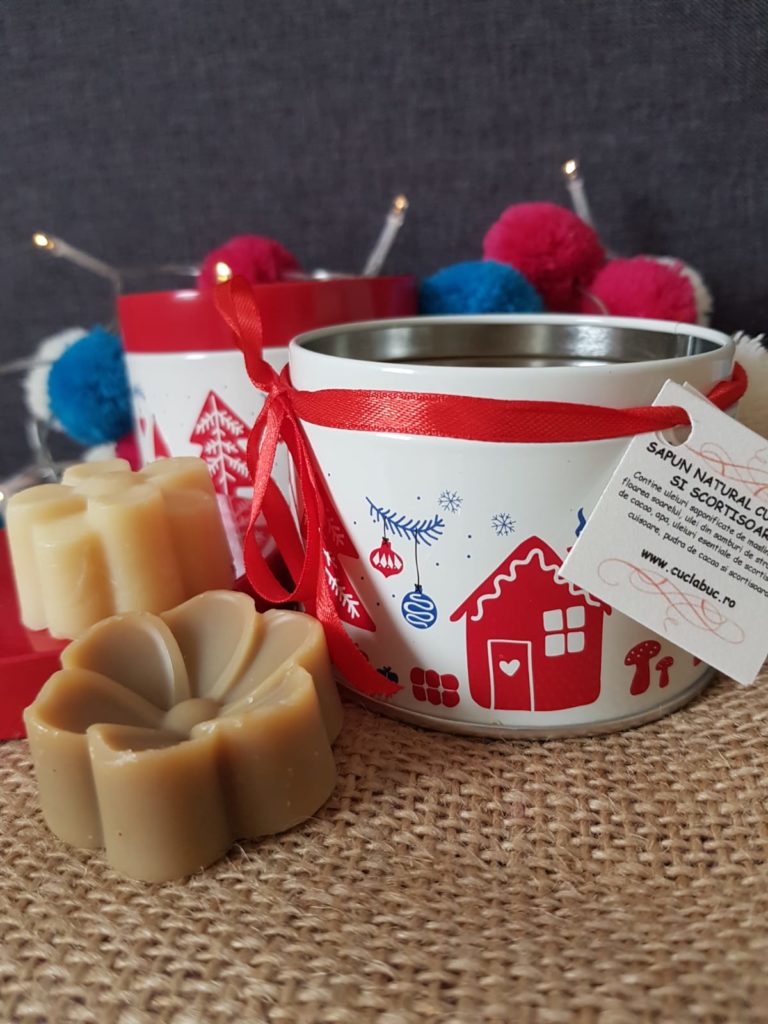 Gata, gata, acum vin cu concluzia, că m-am întins ceva cu articolul ăsta ??. Deci, concluzia mea este că merită cumpărate. Prețurile sunt foarte bune, cantitatea la fel. Am fost tare mulțumită de calitatea săpunurilor, parfumul lor și cât timp durează. Deci da, de reținut, cumpărat și dăruit. ??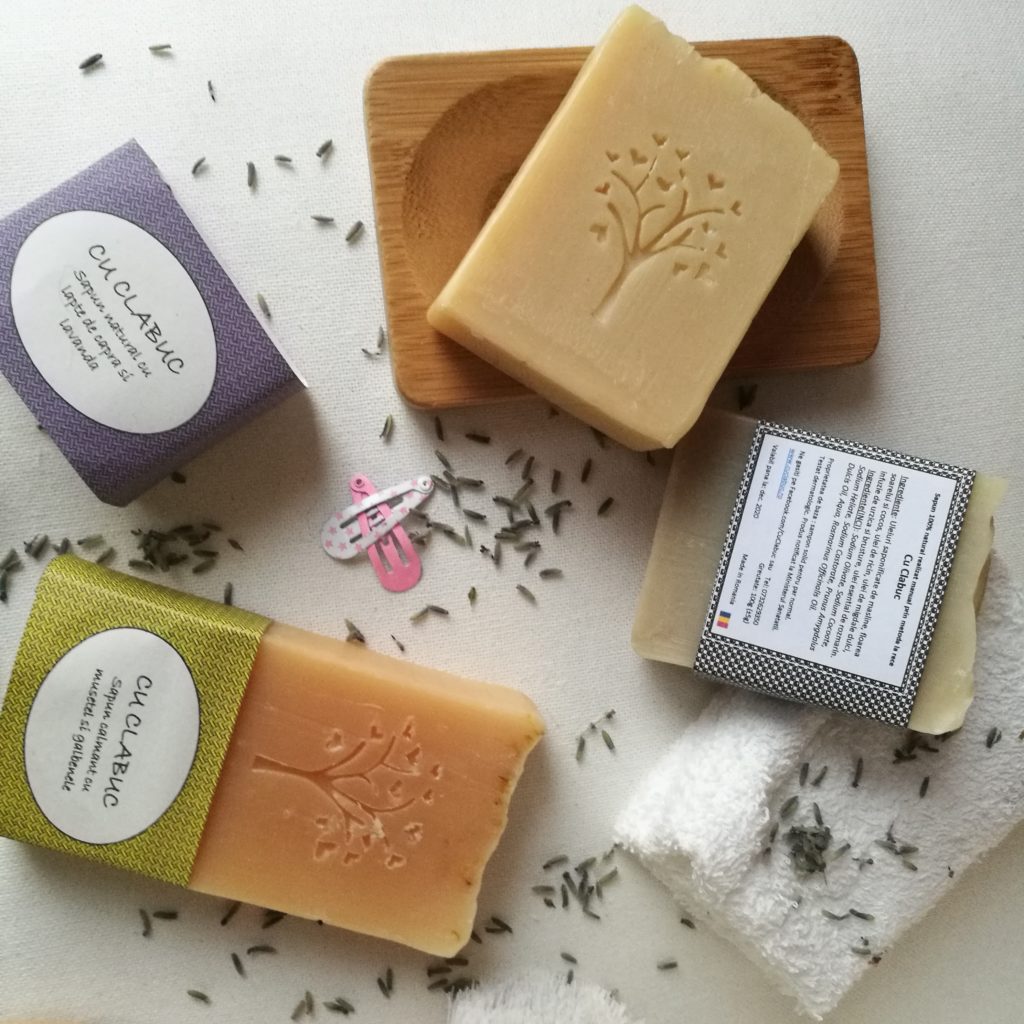 English:
This season I feel more the need to pamper myself than other seasons and to take better care of my skin, 'cause ….baby is cold outside. One of my favourite things to do is a hot shower so I can feel warm and energised and I can close my eyes and smell the swotting smell of lavender and chamomile.
I previously mentioned here and there that I don't use shower gel or hair shampoo because of their plastic bottles, but fear not, I didn't manage to kill anyone with my body odor ???, because I have discovered some awesome natural products, good for our health and also for the environment. For example, one of those brands are Cu clăbuc (click on its name to go to the online store), or here for their facebook page and instagram page
Why? are you asking. Well, here are a few reasons: first one is that all the products from Cu clăbuc are natural, handmade, using a safe method to preserve all the properties from the oils and other ingredients. Other reasons are: vegan, palm oil free (which is very good because the increased demand for palm oil generates a real environmental crisis), no plastic, cruelty free, made in Romania (so we also help our local economy). And I also love they have a minimalist packing: just a piece of paper and a stamp with a tree on every soap which is gorgeous.
Now let me tell you more about the soaps I have tested on my body and face. I also have a soap bar for my hair with nettle and castor oil, but I still have another one in use, so I couldn't test this one yet (will come back to it in another article). For the ones I did teste I can say this: love their natural perfume and the fact that it's not very strong (they give me a headache if they're strong) and I could imagine myself in my grandma's yards, smelling the flowers. I liked that my skin felt clean but also hydrated and didn't need to use extra moisturizer to feel good. And on my face that itchy dry sensation was almost gone (I usually get that after washing my face with soap) so I only needed a light moisturiser to keep it hydrated. I also liked that the soaps lasted more than one month, but I was extra careful not to put them in water and the soap dish is dry.
And if you are in need of gifts ideas, Dana from Cu clăbuc brand has prepared some cute gift boxes perfect to make someone happy. I know I was when I got the soap because they smell so good, they look awesome and they cover a lot of different needs: moisturising the skin, or as a scrub, for sensitive skin….you name it! And the thing that excited me the most was set containing a dish soap, a soap and a face towel. I wanted for a long time a wooden soap dish and this one is very beautiful and it helps the soap stay dry. And the face towel is so very practical to take off my make-up. After a few uses I throw it in the washing machine and use it again and again. You can find the set here.
Ok, ok, I am going to finish this looong loong article now and say that the bottom of line is: yes, there are some good quality soaps there and the prices are very ok for them. I recommend them! ??
You May Also Like
December 2, 2019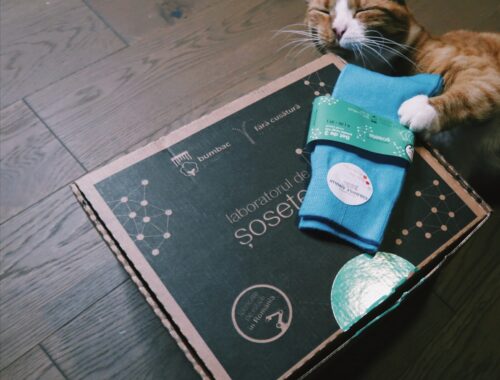 December 12, 2020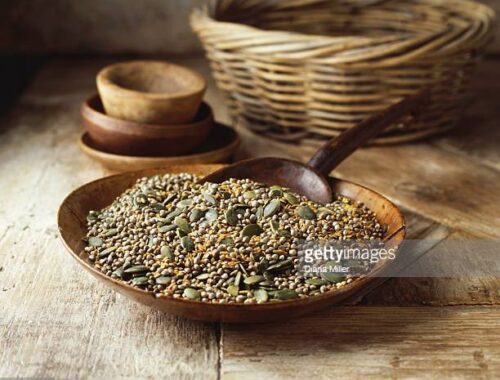 March 23, 2023